New Patient Information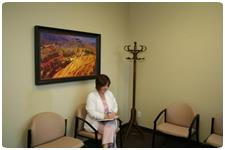 A new patient can expect to spend about one hour at the office for their first visit. This visit includes time to fill out the necessary entrance forms*, have a thorough consultation with the doctor, and allows the doctor to perform his examination.Your diet and nutritional state are also important to the doctor. Any medications, special diets, or dietary supplements will be reviewed on your first visit.
Subsequent visits are typically 15 minutes or less.
*If you have your entrance forms completed already, you can deduct 15 to 20 minutes from the estimated time of the first visit.
Insurance
The number one question we hear from patients is "Do you accept insurance?" Chiropractic coverage is a benefit included in many medical policies. We will contact your insurance company for an estimation of benefits including co-pays, deductibles, and any limitations before the conclusion of your first visit and review those benefits with you.
Our office is an In-Network Preferred Provider for Anthem-Blue/Cross Blue Shield, Cigna, Sagamore, and Community Health Alliance, as well as a Participating Provider for Medicare. As an In-Network Provider, we have agreed to a negotiated rate with your insurance company which often translates into much lower costs to our patients.
Our office will be happy to assist you by preparing and filing your insurance claims as well as communicate with the insurance company in order to obtain payment. For those without chiropractic benefits, we offer a 20% time-of-service discount.
Forms
Please use the following links to print and fill out our insurance coverage and patient health history forms. The forms are formatted in Adobe Acrobat, in order to view them you will need Adobe Acrobat Reader installed on your computer. If you do not have Adobe Acrobat Reader you can click here to download it FREE.

Patient Rights
Information about your stay is private, and is protected by state and federal laws. We work hard to respect your privacy, while at the same time complying with the laws that apply to us. In most cases, it's up to you whether we give out your information.